Q: What time is check-in and check-out?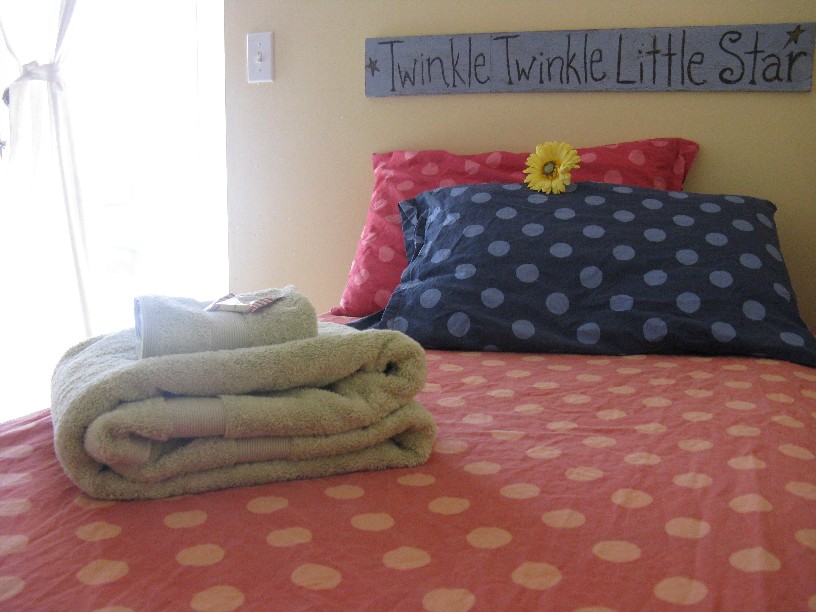 A: Check-in is Noon on Friday, and check-out is 5pm on Sunday.
Q: What are the sleeping arrangements?
A: There are 3 bedrooms and 9 beds. 6 of the beds are twin, and 3 of the beds are queen.
Q: Do you have massage services?
A: YES! My Time Massage is a local group of massage therapists who will do on site massage during your stay. They are FABULOUS and you'll love them! Schedule your appointments directly with them at: mytimemassage.org or 612-810-1009
Q: What about bedding?
A: Each bed is made up with fresh, clean sheets, a comforter and a pillow. Soft towels and washcloths are also provided. There are several warm blankets scattered throughout the house as well.
Q: How do we handle food for the weekend?
A: Your group supplies the food for the weekend, and the full service kitchen should have everything you need to prepare your meals.
Q: What's in the kitchen?
A: Memory Lane is equipped with a full kitchen. In addition to a full sized fridge, oven and stove, there is a microwave, toaster, Keurig coffee maker, electric mixer and crock pot. The kitchen is stocked with serving ware, dish ware, wine glasses, water pitchers, coffee mugs, mixing bowls, towels, pot holders and dishcloths. The usual array of utensils and spatulas are also available. Groups supply their own napkins and any other disposable items, such as saran wrap, aluminum foil, etc.
Q: Does anyone deliver pizza to Memory Lane?
A: Glad you asked! These 3 restaurants offer free delivery to Memory Lane:
Dominoes 651-277-3030
Pizza Hut 651-674-8888
Pizza Pub 651-674-1777
Papa Murphy's 651-674-0707
Q: What can I find in the scrapbooking store?:
A: Tape runners, plain and printed paper, Cricut mats and Blades, and other basics in case you run out.
Q: What if we donít have a group of ten?
A: Check out our Facebook Page to hook up with others looking to join up with a group. Sometimes groups have a few openings they'd like to fill and this is a good place to communicate with other scrappers.
Q: Do we have to clean when we leave?
A: Memory Lane has itís own housekeeper. We just ask that upon check-out you strip the linens off your bed and gather the garbage into the garage trash bin.
Q: How much space is there for each person to work?
A: Each person has a 4.5' table with individual overhead lighting and an adjustable cushioned office chair to work on.
Q: What scrap booking tools are at Memory Lane?
A: The workstation houses a computer loaded with scrap booking fonts and tools, a color printer, a 12x12 paper cutter, Xyron Machine, circle and oval cutter, square, hexagon, circle and heart shape maker. We also feature a Cricut Machine, with a selection of fonts. In addition, there are a variety of idea books to look through.
Q: Do you have high-speed internet access?
A: Yes! And wireless!
Q: What is your payment policy?
A: A $100 non-refundable deposit is required to make your reservation secure. The balance of the payment is due one month before you arrive at Memory Lane. If you cancel your weekend with less than one month's notice, you forfeit your payment.
Q. What else do I need to know?
∑ Memory Lane is smoke free
∑ On weekends, a 2-night minimum stay is required
∑ Memory Lane is air-conditioned
∑ No more than 10 people per night, thanks!
∑ Flat screen TV for DVD and Netflix use in the croproom
Once you book a weekend, you have first priority to book it for the next year!